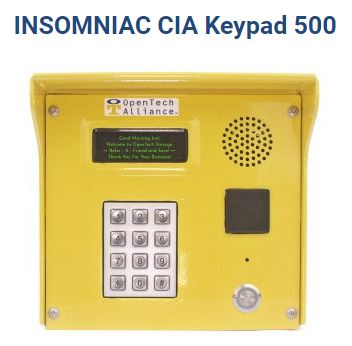 INSOMNIAC™ Centralized Intelligent Access (CIA)
INSOMNIAC CIA gives you total control of a single or thousands of properties, and addresses issues with older PC-based systems including technology, warranty, installation, and support. Don't worry about computer problems or never-ending software updates as the cloud-based software will continue to operate even if your Internet connection goes down. Managers and owners, gain insights into your renter's behaviors and streamline business operations with predictive maintenance triggers with real-time data visualization and reporting from the OpenTech IoE Control Center. Enhance your tenants' experiences by utilizing the hands-free secure access from our Storage Genie mobile app.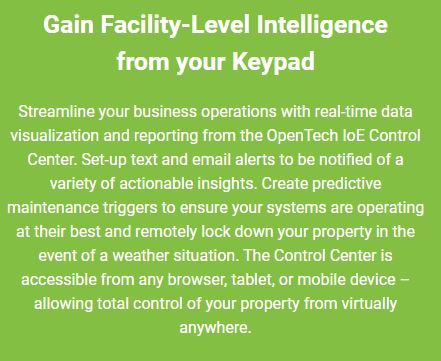 Developed for the self storage Industry – cutting edge technology addresses issues with older PC-based systems including updated security, warranty, and installation and support. Many other Access Control solutions are built by a 3rd party.


Exclusive Lifetime Protection – includes hardware, lightning and power surges, unlimited telephone and technical support as well as software subscription and updates.


Storage Genie tenant app functionality.
Access Anytime, Anywhere – total control of a single or thousands of properties and works from any mobile device, PC, Mac, tablet or smartphone.


Designed to incorporate the latest encryption and token-based technologies for all communications between gateway, remote devices and web servers.


Cloud based dashboard provides state of the art data visualization and reporting.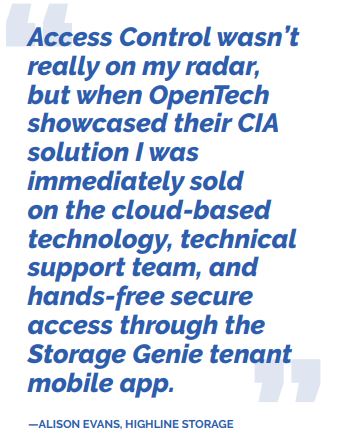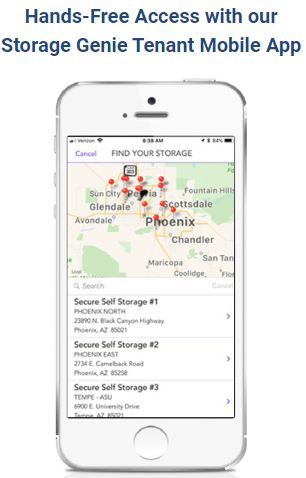 Storage Genie
is a tenant mobile app that comes with INSOMNIAC CIA and was designed to enhance the tenants experience by utilizing hands-free secure access to your storage property. The app uses Bluetooth Beacon technology designed into each keypad to allow tenants to gain access without having to take out their phone from a purse or pocket. The app also allows tenants to make a payment, view activity history and contact the facility.